Long-standing interest in Poultry Science coupled with the desire to experience other cultures were the reasons that motivated me to apply for the Marie Curie Horizon2020 Early Stage Researcher position. The MonoGutHealth project as one of the European project avails me this opportunity to realise such a dream. It gives me a chance to learn and gain more experience through research, mobility  and networking. Furthermore, being part of such a prestigious project giving the chance to carry out a more than a "traditional PhD" motivated me even more.
When it comes to the mobility, the Covid-19 pandemic posed a serious challenge, however the MonoGutHealth coordinator and project manager together with the main supervisors rise to the task and work tirelessly to make sure that the mobility of the ESRs was and still is possible. For example they reacted swiftly in making arrangements for our first training school to be held in Poland, instead of Ireland as previously scheduled.
During our first training school at Bydgoszcz University of Science and Technology, Poland, I had the opportunity to meet all the ESRs, supervisors and some partners of the MonoGutHealth project. In this period, we had Monogastric Nutrition course which was very informative and educative. This was followed by an interactive complementary skills training course where we were trained how to make an elevator pitch, learned how to communicate and disseminate scientific information to different audiences. At the end, I had the opportunity to introduce my project topic, interact and socialise with my fellow ESRs and supervisors.
Personally, it was challenging to settle in my new environment, Poland. Since I lived in several foreign countries such as Taiwan, Hungary, these previous experiences helped me to quickly adapt to my new environs. Yet, still I face some challenges because every country has its own lifestyle, culture and language. Thanks to my fantastic colleagues and some friends I met in the city (Bydgoszcz), I find it easier to integrate myself.
I am impressed with Poland, especially Bydgoszcz as a city, the locals are very welcoming and always smiling and ready to help. My two favourite spots in the city are the Old Town and the Brda River. At the Old Town square, one can find different kind of restaurants with varieties of food and the Brda river view is amazing to take a stroll especially during summer months.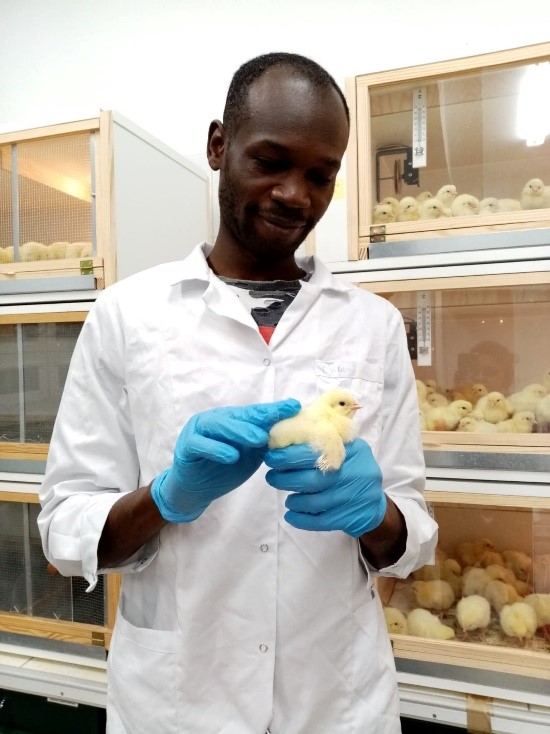 My first year at the Faculty of Animal Breeding and Biology, PBS is quite productive. I found myself in a very conducive environment with supportive colleagues to work with and supervisors who always guide me to excel and live up to their expectations. I am given the opportunity to learn new techniques, improve my laboratory skills, learn how to operate an automated in ovo injection machine and to perform in ovo injections as well. Overall, I have gained experience in animal handling and care, broilerChickens kept for meat production. Fast growing breeds can reach a weight of over 2 kg at 5 weeks of… house management etc.
This is just the beginning of such an exciting journey, and I am prepared to unravel what is ahead of me in the subsequent years to come.